Eisenman Architects' unique approach to design projects is to consider the layers of physical and cultural archaeologies at each site, not just the obvious contexts and programs of a building. Rather than pursuing a particular building type, Eisenman Architects specializes in a particular problem type: projects with difficult siting, programmatic and/or budgetary constraints, and of strategic importance to their environment. The firm has produced a wide range of award-winning projects around the world, including housing, urban planning, and innovative education, cultural and commercial facilities.
The office's current projects include a one-million-square-foot, six-building cultural complex in Santiago de Compostela, Spain (a library and an archive, a performing arts center, two museums, and a central services building), a commuter rail station in Pompeii, Italy, condominium housing in Milan, and a masterplan for Pozzuoli, Italy. The firm's University of Phoenix Stadium for the Arizona Cardinals opened in August 2006, and was the site of Super Bowl XLII in February 2008.
The firm's clients have ranged from the individual homeowner to the Federal Republic of Germany, from the State of Ohio to the Autonomous Community of Galicia in Spain, each with its own needs, financial constraints, and expectations. Many of the firm's projects have received design awards including the Wexner Center for the Arts and Fine Arts at The Ohio State University, the Koizumi Sangyo Corporation headquarters in Tokyo, and the Memorial to the Murdered Jews of Europe in Berlin. The firm's Aronoff Center for Design and Art, the University of Phoenix Stadium, and City of Culture of Galicia have each been the subject of hour-long television programs. The work of Eisenman Architects is also the subject of a number of books, most recently Tracing Eisenman (Rizzoli, 2006) and Peter Eisenman. Tutte le opere. (Electa, 2007).
Eisenman Architects also participates in invited design competitions, which the firm views as opportunities to test new ideas. In 1999, the firm led a team of architects, engineers and transportation consultants to produce the winning scheme in the Canadian Centre for Architecture's Prize Competition for the Design of Cities, which focused on Manhattan's West Side. In fall 2002, the firm collaborated with three other New York architectural offices in the invited competition for a design proposal for redevelopment of the World Trade Center site. Most recently, Eisenman Architects produced a scheme for the Federal National Council Building in Abu Dhabi.
To access a complete archive between 1951-2008 on Eisenman Architects, please follow the link above to the Canadian Centre for Architecture.
Peter Eisenman, FAIA, Int FRIBA
Founder and Principal

Peter Eisenman is an internationally recognized architect and educator whose award-winning large-scale housing and urban design projects, innovative facilities for educational institutions, and series of inventive private houses attest to a career of excellence in design.

Prior to establishing a full-time architectural practice in 1980, Mr. Eisenman worked as an independent architect, educator, and theorist. In 1967, he founded the Institute for Architecture and Urban Studies (IAUS), an international think tank for architecture in New York, and served as its director until 1982.

Mr. Eisenman is a member of the American Academy of Arts and Sciences and the American Academy of Arts and Letters. Among other awards, in 2001 he received the Medal of Honor from the New York Chapter of the American Institute of Architects, and the Smithsonian Institution's 2001 Cooper-Hewitt National Design Award in Architecture. He was awarded the Golden Lion for Lifetime Achievement at the 2004 Venice Architecture Biennale. Popular Science magazine named Mr. Eisenman one of the top five innovators of 2006 for the University of Phoenix Stadium for the Arizona Cardinals. In May 2010 Mr. Eisenman was honored with the Wolf Foundation Prize in the Arts, awarded in Jerusalem. He received the Gold Medal for Architecture from the American Academy of Arts and Letters in 2020.

Currently a visiting professor at the Yale School of Architecture, Mr. Eisenman's academic career also includes teaching at Cambridge, Princeton, Harvard, and Ohio State universities. Previously he was the Irwin S. Chanin Distinguished Professor of Architecture at The Cooper Union, in New York City. He is also an author, whose most recent books include: Written Into the Void: Selected Writings, 1990-2004 (Yale University Press, 2007) and Ten Canonical Buildings, 1950-2000 (Rizzoli, 2008), which examines in depth buildings by ten different architects.

Mr. Eisenman holds a Bachelor of Architecture degree from Cornell University, a Master of Science in Architecture degree from Columbia University, and M.A. and Ph.D. degrees from Cambridge University (U.K). He holds honorary Doctorates of Fine Arts from the University of Illinois, Chicago, the Pratt Institute in New York, and Syracuse University. In 2003, he was awarded an honorary Doctorate in Architecture by the Università La Sapienza in Rome.

Selected Awards

2020

Gold Medal for Architecture, The American Academy of Arts and Letters

2015

AIA/ACSA Topaz Medalion for Excellence in Architectural Education

American Institute of Architects, Ohio Twenty-Five Year Award
The Wexner Center for the Visual Arts and Fine Arts Library, The Ohio State University, Columbus, Ohio (Joint Venture with Richard Trott and Partners, Columbus, Ohio)

2014
Piranesi Prix de Rome for Career Achievement, Accademia Adrianea di Architettura e Archeologia, Rome Dedalo Minosse International Prize for the Environment, City of Culture of Galicia

2013

AIA New York State Educator Award

2012

Yenikapi Gateway Design Competition, First Prize
Yenikapi Archaeological Museum and Archeo-park, Istanbul, Turkey


Honorary Doctor of Fine Art, Brera Academy of Art, Milan

2010

Wolf Foundation Prize in the Arts awarded to Peter Eisenman

2009

Sports Illustrated, "Best Stadium of the Decade"
University of Phoenix Stadium, Glendale, Arizona

2007

American Institute of Architects, National Honor Award for Design


Memorial to the Murdered Jews of Europe, Berlin, Germany



2006

Golden Cube for Architectural Achievement, Architecture Annale, Naples, Italy

Berlin Architectural Prize, Distinction
Memorial to the Murdered Jews of Europe, Berlin, Germany

International Fellowship from the Royal Institute of British Architects

Honorary Doctor of Fine Arts, Syracuse University, Syracuse, New York

2005

American Institute of Architects, New York Chapter, Honor Award
Memorial to the Murdered Jews of Europe, Berlin, Germany

Alberto J. Pani Award for Architectural Design, Mexico City, Mexico

I.D. Annual Design Review Design Distinction for Environment Award, "Garden of Lost Footsteps," Verona, Italy

2004

Golden Lion for Lifetime Achievement in Architecture, Ninth International Architecture Biennale, Venice, Italy

Royal Institute of British Architects Jencks Award for Architectural Theory

2003

Progressive Architecture Architectural Design Award
City of Culture of Galicia, Santiago de Compostela, Spain

2002

Ninth International Architectural Biennale, Venice, Italy
City of Culture of Galicia, Santiago de Compostela, Spain

First Prize, Invited International Competition
2002 Leipzig Olympic Park, Leipzig, Germany

1999

First Prize, Invited International Competition
City of Culture of Galicia, Santiago de Compostela, Spain

First Prize, IFCCA Prize Competition for the Design of Cities
"Manhattan Fold," New York, New York

Second Prize, Invited International Competition
Musée du Quai Branly, Parisa, France

1997

First Prize, Invited International Competition
Memorial to the Murdered Jews of Europe, Berlin, Germany

1993

Progressive Architecture Architectural Design Citation
Center for the Arts, Emory University, Atlanta, Georgia

American Institute of Architects National Honor Award
The Wexner Center for the Visual Arts and Fine Arts Library, The Ohio State University, Columbus, Ohio (Joint Venture with Richard Trott and Partners, Columbus, Ohio)

American Institute of Architects, New York Chapter, Citation
Nunotani Corporation Headquarters Building, Tokyo, Japan

American Institute of Architects, New York Chapter, Architectural Projects Honor Award
Center for the Arts, Emory University, Atlanta, Georgia

1992

Progressive Architecture Architectural Design Award
Alteka Office Building, Tokyo, Japan

1991

Fifth International Architectural Biennale, Venice, Italy
College of Design, Architecture, Art, and Planning University of Cincinnati, Ohio (In Association with Lorenz & Williams, Dayton, Ohio)

Progressive Architecture Architectural Design Award
College of Design, Architecture, Art, and Planning University of Cincinnati, Ohio (In Association with Lorenz & Williams, Dayton, Ohio)

First Prize, Invited International Competition
Rebstockpark Master Plan, Frankfurt, Germany (In Association with Albert Speer and Partners, Frankfurt, Germany)

American Institute of Architects National Honor Award
Koizumi Sangyo Corporation Headquarters Building, Tokyo, Japan (In Association with K Architects & Associates, Japan)

1990

Progressive Architecture Architectural Design Citation
Carnegie Mellon Research Institute, Pittsburgh, Pennsylvania

Progressive Architecture Architectural Design Award
Banyoles Olympic Hotel, Banyoles, Spain

1989

First Prize, Invited International Competition
Greater Columbus Convention Center, Columbus, Ohio (Joint Venture with Richard Trott and Partners, Columbus, Ohio)

First Prize, Invited International Competition
Banyoles Olympic Hotel, Banyoles, Spain

American Institute of Architects, New York Chapter, Interior Project Citation
Fuller-Toms Loft, New York, New York

American Institute of Architects, New York Chapter, Architectural Projects Honor Award
Guardiola House, Cadiz, Spain

American Institute of Architects, New York Chapter, Architectural Projects Honor Award
Carnegie Mellon Research Institute, Pittsburgh, Pennsylvania

Progressive Architecture Architectural Design Citation
Guardiola House, Cadiz, Spain

1988

American Institute of Architects National Honor Award
IBA Social Housing at Checkpoint Charlie, West Berlin, West Germany (In Association with Groetzbach, Plessow & Ehlers, Berlin 1987)

Special Prize, Invited International Competition
Biozentrum der Universitat, Frankfurt, Germany

Progressive Architecture Architectural Design Citation
Master Plan for University Art Museum, Long Beach, California

1985

New York City Art Commission, Award for Excellence in Design
Firehouse for Engine Company 233 & Laddr Company 176, Brooklyn, New York

Stone Lion, Third International Architectural Biennale, Venice, Italy
Romeo + Juliet Castles

Progressive Architecture Architectural Design Award
The Wexner Center for the Visual Arts and Fine Arts Library, The Ohio State University, Columbus, Ohio (Joint Venture with Richard Trott and Partners, Columbus, Ohio)

1983

First Prize, Invited International Competition
The Wexner Center for the Visual Arts and Fine Arts Library,The Ohio State University, Columbus, Ohio (Joint Venture with Richard Trott and Partners, Columbus, Ohio)

1981

Special First Prize, West Berlin Invited International Design Competition
South Friedrichstadt, West Berlin, West Germany

1979

Progressive Architecture Architectural Design Citation
House 11a

1976

Progressive Architecture Architectural Design Citation
House X, Bloomfield Hills, Michigan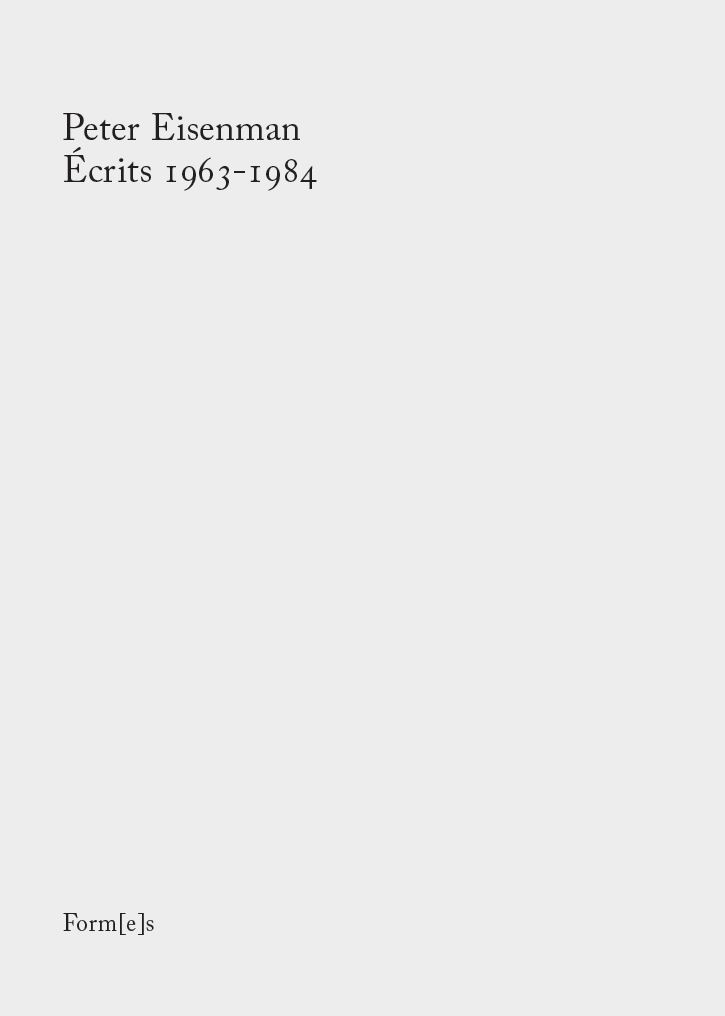 Selected Bibliography
2020
Lateness. Peter Eisenman and Elisa Iturbe. Princeton University Press, 2020


2018

Peter Eisenman The Formal Basis of Modern Architectrure, Tongji University Press (Chinese translation)

2017

Peter Eisenman: Écrits: 1963-1984. Peter Eisenman. Edited to the French by Elias Guenoun, Translated by Gautheir Hermann. Paris: Éditions Form[e]s


11 + L. Una antología de ensayos, Puente Editores (Spanish)


Peter Eisenman: In Dialogue with Architects and Philosophers, Edited by Vladan Djokić and Peter Bojanić. Mimesis International

Ten Canonical Buildings: 1950-2000. Peter Eisenman. Translated to the Chinese by Fan Lu. Beijing:
Commerical Press

2016

By Other Means: Notes, Projects, and Ephemera From the Miscellany of Peter Eisenman.
Jeffrey Kipnis. Edited by Mathew Ford. Leiden: GAA Foundation

Peter Eisenman: Scomposizioni, Stratificazioni, Topografie, Oltre lo Sguardo . Edited by
Giovanna Vitali. Corriere della Sera. Milan: RCS MediaGroup S.p.A (Italian)

Conversations with Peter Eisenman: the Evolution of Architectural Style. Edited by Vladimir Belogolovsky. Berlin: DOM Publishers

From Formalism to Weak Form: The Architecture and Philosophy of Peter Eisenman. Stefano Corbo. New York: Routledge

2015

Palladio Virtuel. Peter Eisenman with Matt Roman. Yale University Press

The Formal Basis of Modern Architecture. Peter Eisenman. (Farsi translation)

Supercritical: Peter Eisenman & Rem Koolhaas. London: AA Press, 2013 (Farsi translation)

2013

Supercritical: Peter Eisenman & Rem Koolhaas. London: AA Press, 2013

2008

Eisenman Architects: University of Phoenix Stadium for the Arizona Cardinals. Edited by Todd Gannon. New York: Princeton Architectural Press

Ten Canonical Buildings: 1950-2000. Peter Eisenman. Edited by Ariane Lourie. New York: Rizzoli

2007

Peter Eisenman. Milano: Motta Architecture (Italian)

Written Into the Void: Selected Writings 1990-2004. Peter Eisenman, with introduction by Jeffrey Kipnis. New Haven and London: Yale University Press, 2007

Peter Eisenman: Tutte le Opere. With essays by Pier Vittorio Aureli, Marco Biraghi, Franco Purini. Milano: Electa, 2007 (Italian)

2006

Peter Eisenman: Feints. Edited by Silvio Cassara. Milano: Skira

The Formal Basis of Modern Architecture. Peter Eisenman. Baden: Lars Muller Publishers, 2006. Facsimile reproduction of Peter Eisenman's dissertation, submitted August 1963 at the University of Cambridge (UK)

Tracing Eisenman. Edited by Cynthia Davidson, with essays by Stan Allen, Cynthia Davidson, Greg Lynn, Sarah Whiting, and Guido Zuliani. London: Thames and Hudson, 2006. Also, Tras el Rastro de Eisenman. Ediciones Akal, S.A., 2006. (Spanish) and Auf den Spuren von Eisenman. Verlag Niggli AG, (German)

2005

Holocaust Memorial Berlin. Photographs by Hélène Binet and Lucas Wassmann, Essay by Hanno Rauterberg. Baden: Lars Muller Publishers

Die formale Grundlegung der modernen Architektur. Peter Eisenman, with introduction by Werneer Oeschlin, Berlin: Gebr. Mann Verlag, 2005. German translation of Peter Eisenman's 1963 dissertation "The Formal Basis of Modern Architecture"

Peter Eisenman: Contropiede. Edited by Silvio Cassara. Milano: Skira, 2005. (Italian) Catalogue for the exhibition of the same name at the Auditorium Monzani, 18 June - 17 July 2005, in Modena, Italy

CODEX: The City of Culture of Galicia. Eisenman Architects. New York: Monacelli Press

2004

Eisenman Inside Out: Selected Writings 1963-1988. Peter Eisenman. Edited by Mark Rakatansky. New Haven and London: Yale University Press

Peter Eisenman: Barefoot on White-Hot Walls. Peter Noever. Vienna: Hatje Cantz, 2004. (German and English). Catalogue for the Barefoot on White-Hot Walls exhibition at the MAK in Vienna

Il Giardino dei Passi Perduti, The Garden of Lost Footsteps. Venezia: Marsilio, 2004. Catalogue for the exhibition of the same name at the Museo di Castelvecchio in Verona, Italy, from 23 June 2004 - 23 January 2005

2003

Blurred Zones: Investigations of the Interstitial, Eisenman Architects 1988-1998. Peter Eisenman. Edited by Cynthia Davidson. New York: Monacelli Press

Giuseppe Terragni: Transformations, Decompositions, Critiques. Peter Eisenman. New York: Monacelli Press, 2003. Includes texts by Giuseppe Terragni and Manfredo Tafuri

2000

Kein Abschied von der Moderne: Architekten und ihre Visionen; Günter Behnisch, Hans Hollein, Winy Maas, Peter Eisenman, Jacques Herzog, Christoph Ingenhoven, Hilde Leon. Dirk Meyhöfer. Hamburg: Junius

Saper Credere in Architettura: Settantacinque Domande a Peter Eisenman. Edited by Massimo Sodini. Napoli: CLEAN

1999

Diagram Diaries. Peter Eisenman. New York: Universe

Eisenman Digitale. Luca Galofaro. Basel and Boston: Birkhauser

Peter Eisenman: a dekonstruktivizmustól a foldingig. György Kunszt. Budapest: Akadémiai Kiadó

1998

Peter Eisenman: progetti e opere. Edited by Luca Galofaro. Rome: Edilstampa

1997

Chora L Works. Peter Eisenman and Jacques Derrida. Edited by Jeffrey Kipnis and Thomas Leeser. New York: Monacelli Press

1996

Eleven Authors in Search of a Building: The Aronoff Center for Design and Art at the University of Cincinnati. Edited by Cynthia Davidson. New York: Monacelli Press

Mistico Nulla: L'opera di Peter Eisenman. Renato Rizzi. Milan: F. Motta

Peter Eisenman: Mystisches Nichts: Sein Werk. Renato Rizzi. Translated to the German by Suzanne Vogel. Basel: Wiese Verlag

Peter Eisenman: Trivellazioni nel futuro. Antonino Saggio. Universale di Architettura, collana diretta da Bruno Zevi. Torino: Testo & Immagine s.r.l.

1995

Aura und Exzess: zur Überwindung der Metaphysik der Architektur. Peter Eisenman. Edited by Martina Kögl and Ullrich Schwarz. Vienna: Passagen Verlag

Eisenman Architects: Selected and Current Works. Edited by Stephan Dobney. Mulgrave, Victoria: Images Publishing Group

M Emory Games: Emory Center for the Arts. Eisenman Architects. New York: Harvard GSD and Rizzoli. Catalogue for exhibition of the same name at Harvard University Graduate School of Design

1994

Cities of Artificial Excavation: The Work of Peter Eisenman, 1978-1988. Edited by Jean-François Bédard. New York: Rizzoli, 1994. Catalogue for the exhibition of the same name at the Canadian Center for Architecture, 2 May - 19 June 1994

1993

Color of an Architect: Haus Immendorff. Hamburg: Artfound Print Co. and Galerie für Architektur Renate Kammer und Angelika Hinrichs, 1993. Catalogue for the exhibition of the Haus Immendorff project at Galerie für Architektur Renate Kammer und Angelika Hinrichs, Hamburg

Griddings, Scalings, Tracings and Foldings in the Work of Peter Eisenman. São Paulo: Editora Pini, Ltda. Catalogue for the exhibition of the same title at the Museu de Arte de São Paulo, Brazil

Peter Eisenman: Opere e Progretti. Edited by Pippo Ciorra. Vol. 71, Serie Documenti di Architettura. Milan: Electa

Re:Working Eisenman. Peter Eisenman. Edited by Andrew Benjamin. London: Academy Editions; Berlin: Ernst & Sohn

1992

Architekten - Peter Eisenman. Edited by Ulrike Stark. Stuttgart: IRB-Verlag

Frankfurt Rebstockpark: Folding in Time. Eisenman Architects and Albert Speer & Partner. Munich: Prestel-Verlag; Frankfurt: Deutsches Architekturmuseum, 1992. Catalogue for the exhibition of the Rebstockpark Master Plan at the Deutsches Architekturmuseum in Frankfurt

1991

Botta, Eisenman, Gregotti, Hollein: Musei. Pippo Ciorra. Milan: Electa

Peter Eisenman & Frank Gehry. Peter Eisenman and Frank Gehry. New York: Rizzoli, 1991. Catalogue for the Fifth International Exhibition of Architecture at the 1991 Venice Biennale
Unfolding Frankfurt. Berlin: Ernst & Sohn, 1991. Catalogue for the exhibition of Rebstockpark project at Aedes Gallery, Berlin

1989

Deconstruction: Omnibus Volume. Edited by Andreas C. Papadakis. London: Academy Editions

Guardiola Haus (Guardiola House). Peter Eisenman. Berlin: Aedes Galerie. Catalogue for exhibition of same name at Aedes Galerie für Architektur und Raum, Berlin, 16 January - 14 February

Peter Eisenman: Recente Projecten (Recent Projects). Edited by Arie Graafland. Nijmegen: SUN

The Wexner Center for the Visual Arts: Ohio State University. Eisenman Architects and Richard Trott and Partners. New York: Rizzoli

1988

Deconstructivist Architecture. Philip Johnson and Mark Wigley. Boston: Little Brown and Company/The Museum of Modern Art New York Graphic Society Books, 1988. Catalogue for MoMA Exhibition

1987

Houses of Cards. Edited by Peter Eisenman. New York: Oxford University Press, 1987. Work from 1968-1978

La Fine del Classico. Peter Eisenman. Edited by Renato Rizzi. Translated by Renato Rizzi and Daniela Toldo. Introduction by Franco Rella. Venice: Cluva

1985

Investigations in Architecture: Eisenman Studio at the GSD 1983-85. Jonathan Jova Marvel. Cambridge, MA: Harvard GSD

Moving Arrows, Eros, and Other Errors: An Architecture of Absence Peter Eisenman. Box 3. London: Architectural Association. Catalogue

1982

House X. Edited by Peter Eisenman. New York: Rizzoli

1975

Five Architects: Eisenman, Graves, Gwathmey, Hejduk, Meier. Peter Eisenman, et al. New York: Oxford University Press Incorporated